DIN LAW GROUP, PLLC
Book A
Consultation
Removal of condition
In the beginning, during my process of choosing the right lawyer for me, I had read reviews of many immigration lawyers online. I had seen good reviews on Asma so I had contacted her. After our brief meeting, I decided to work with her. Today I am very happy that I chose her as throughout my process she was there to help me with any questions or doubt I had. Immigration case can be a hectic process but she made it easier as she is very good at what she does. And was always available when you needed her help. At this stage, I can gladly say that all my processes went smoothly and my case has been resolved. I am very grateful to her for all the advice and help. For anyone looking for immigration case issues I would highly recommend Asma.
Green card for my mom
I hired Ms. Din to assist with my mother's green card process. From the moment I spoke initially and signed the contract, my experience in working with Ms. Din was very smooth. Ms. Din is very articulate and explains the process very well. Ms. Din assisted in filling out all the forms, submitting the forms and following up on anything the DHS was looking for. If you are considering a highly professional, prompt and ethical immigration attorney, please consider Ms. Din.
k1 visa
Asma bano din she is beyond Excelente lawyer she hardworking compassionate who care lot about her client I recommend her and her staff to everyone that need very good excellent law firm
The lawyer who is available to you any time
We applied for family based immigrant visa, where my wife was the petitioner , our case was time sensitive but unfortunately , it got stuck in the USCIS offices for longer than expected time and for no clear reason , we had no clue what to do as most of our calls to the USCIS officers where useless , then we decided to hire a lawyer to handle our case , I spend long time searching a good immigration lawyer , then I get to know Asma , I called her , she was very helpful , she gave a clear plan to proceed with and all the the options that I was not aware of , she was quick to respond to emails , even when she was busy she will arrange a time in the same day to call her. she was professional when talking to the USCIS
luckily after long wait , our case got approved by the USCIS then Asma helped us to arrange all the documents for the NVC step and she helped me even with smallest details .
I have got a job in the US but the joining date was very time sensitive and I was so stressed that my visa application might take longer time . in this issue Asma helped to file an expedite request to the NVC and things worked great as the accepted my request then after that everything went smoothly . Asma also responded to the immigration concerns from my employer .
I recommend her as immigration lawyer based on my good experience
Asma saved me from deportation
Asma achieved what she promised to me by winning my case in just two hearings. First she got me out of jail and then she saved me getting deported out of the country. She worked very hard, charged me almost half of what other lawyers were asking for. Another important thing, she was very flexible with my payments and totally understood my financial situation. I thank her and highly recommend her.
Excellent Service
I'd like to say that when I learned about my brothers potential deportation my mother and I were very worried and highly skeptical of our chances of being able to help my brother. What made matters worse was that we are not from Dallas and that is were my brother lives. We are of low means and traveling was not feasible.
My brother got detained with a DWI (his second) and he has a permanent residency but had not renewed his Visa. He also had another offense on his record. My brother was held a month through the criminal prison and from there transferred to immigration, where he was held a little over a month.
A couple weeks before my brother got transferred to immigration we reached out to the James Vasilas law firm and from there assigned to Asma Din. As soon as as we were in communication with Asma and her team we felt a little more at ease. It truly felt as if she had a firm hold of the situation and seemed knowledgeable on the particular issues my brother was facing. The only thing that still had us worried was that we were far away and that we would be working with her through phone and email.
Nevertheless her responsiveness was impeccable and she never kept us in the dark. She would update us frequently on his court dates and his transfers. We maintained very close contact and every time we would email information that she requested Asma would acknowledge it and let us know that she received it. Asma's professionalism was superb.
It truly felt as if Asma Din and her team were the perfect team to work with. They took our unpleasant situation and made things better. They won the case for my brother and assisted him in re-establishing his residency. The experience my family and I had while working with Asma Din is the very best possible under this terrible situation.
Adjustment of status
I hired Ms Asma Din to help me with my case last year. The journey was long and tiresome but thank to her help I never gave up she made it smooth for me. I love her energy and good spirit. She is aggressive and never disappointed me at any point of this journey, she was always there when I needed to meet her and also fast to respond to emails. today i celebrate her hard work and determination. If you need an attorney to help you with…
Special Thanks to Attorney Asma
Ms. Asma, I really do not know how to say thank you for helping my mother to get her citizenship. My mom had a really hard case she was rejected for 2 times and we lost the hope of her getting a US citizenship. We asked more than one attorney to take her case but they refused to take the case. Until we found Ms. Asma, she updated us with each single step and she explain what going to happen in details. We communicate with her…
Best Immigration Attorney Around!!
My husband was being held by ICE and was in deportation proceedings. Asma was our immigration lawyer throughout the process. Asma is an exceptional lawyer and attended to our needs at all times. She made sure that everything was ready for our hearings to a point that we didn't even need to have 3 total hearings, we just had 2 hearings(master calendar hearing and the individual hearing). She knows her clients and builds this trust with them…
Wonderful Lawyer
My husband and I requested a K-Visa in order for us to get married here in the States and me being able to live and work here. We have had Asma since the very beginning of this process. She was really helpful during the whole process, always willing to answer my questions, letting me know the updates of my case and giving me information about different issues. The communication was perfect with her, she was very clear about how…
A true Immigration attorney!
I first introduced my adjustment of status case to the immigration in 2009 when I hired my first of many attorneys to help me better present my case. This first attorney collected my application fees and his service fees then basically sent a hot check to the immigration ( yes, some attorneys do that). My case was rejected. I hired a second attorney who is rated as one of the top three best attorneys in the DFW area. He charged me a very high service fee and at the end my case was again rejected. In 2012 I then hired a third attorney who also is listed as one of the top three attorneys in the DFW who went to two immigration interviews with me. still there was no response from the immigration. Then in October after hearing from a friend of the works that Ms Asma Din and the DN Law Group have done for him and his friends I decided to Hire her. On our first meeting Ms Asma traced a plan on how to attend the 4th interview that I was scheduled for. We attended the interview in October and on December 1st my case was approved. Not only am I grateful for the professionalism Ms Asma took my case personal she gave me the moral support every time I visited or called. My wife and I are so happy because now we can take the kids on a trip to go visit my mom. A visit that's 7 years overdue! Thank you so much Ms Asma Din.
Amazing Lawyer!
I did not want to get a lawyer thinking that I will not get the response I am looking for; however, I decided to take a chance and contact Asma. She took the time out of her busy schedule to speak with me, and she was not in a hurry to hang up. She reviewed all of my documents, responded promptly, and thoroughly answered all of my questions. I would recommend Asma to anyone seeking a lawyer for all of their immigration needs.
-Mariam & Tanveer 
Unaccompanied Minor Case
Attorney Din worked my 15 year old son's unaccompanied minor case and my friend's 9 year old son's unaccompanied minor case as well. Attorney Din kept us informed at all times and was very transparent in everything she did. She gave us hope when other immigration attorneys didn't. Her tenacity, intelligence, experience and charisma allowed for the termination of removal proceedings for both cases and we are now ecstatically…
-Luis
Amazing Lawyer!
I did not want to get a lawyer thinking that I will not get the response I am looking for; however, I decided to take a chance and contact Asma. She took the time out of her busy schedule to speak with me, and she was not in a hurry to hang up. She reviewed all of my documents, responded promptly, and thoroughly answered all of my questions. I would recommend Asma to anyone seeking a lawyer for all of their immigration needs.
-Mariam & Tanveer 
I highly recommend Lawyer Asma Din!
I needed a lawyer to review my N-400 naturalization application form and questions regarding a withholding of removal case. Asma Din not only gave me excellent help in both cases but she goes the extra mile in researching and further explaining options and best route to follow. She responds to my phone calls and emails really fast and takes time to explain the cases in detail. Every one of my questions and concerns were addressed…
5 Stars
Recommend for all immigration need ,special 
Motion to reopen , I lost my green card because of my felony back year 2001 got my pardon June 2017 and she file motion reopen 
Not even 90 day ,the judge terminated my remove order. Apply for my green card next day. Thank very much for your time and your work for my case Asma Din.
The best Immigration attorney
I had an excellent experience with Asma! She was an Amazing lawyer! She helped me to bring my brother to the US. All work was done through emails. Every time I sent an email she was very quick to reply. She was very patient with all the questions I asked. She prepared all the documents that I needed to ensure a smooth process and after submitting it to the immigration visa, we got the acceptance in few weeks. I strongly recommend Asma Din and would not hesitate to use her services again.
Being grateful to our Lawyer
Me and my wife are very grateful to our Lawyer Ms Asma, right away she took charge of our immigration case. She understood quickly what she needed to do, and did take the time to explain to us clearly how she was going to proceed .She was also very good following up and communicating with us.absolutely professional and good at what she does.
Dedicated, Sincere, Knowledgeable
I was arrested and an ICE hold placed on me due to a visa overstay. I was in a very difficult situation and consider myself fortunate to have come across Asma. I truly believe that had I not hired Asma that I would not be here today. She was able to get the ICE hold removed and prevent deportation. She provides an unrivalled level of service and personal attention. She visited me several times whilst in jail and had me convinced that she would not stop working until she had me out of there. I believe her to be the best attorney a person could hire. I highly recommend this attorney.
Thanks Asma Din for getting me out
I was in jail for a crime and ICE put an immigration hold on me. I felt comfortable with D&N Law Group. I never knew that they would help me like this. I had faith to have my wife call them. I am really thankful of them getting me out of all my problems and especially immigration-wise.
Excellent Immigration lawyer for my tough case
I was so scared and nervous about my Immigration situation after I was convicted of a serious criminal offense. I hired Ms. Asma Din to handle my complicated case in the Immigration Court. She negotiated with ICE and was able to get the judge to close my case. She was an excellent attorney and I will always be grateful for what she did for me.
– Gustavo
Clear and Concise
Often this stuff can be quite exhausting and nerve-racking- I had no idea what's going regarding my immigration status. I did my research and all the words were so foreign to me. Got in touch with Asma Din and finally I felt like I started understanding my situation. She is clear and concise, responds immediately, and answers all questions thoroughly. I am super glad that I got her reference.
Most determinate lawyer
My father arrested for intoxication and second DWI, he was facing deportation. We contacted Asma Bano Din and even though his case was in Houston she was able to help us. She explained to us the process in which my dad was going and how she was going to handle it. Everything happen in the order she said and she did exactly what she told us. My dad's case was very unpredictable because we didn't have much evidence to fight for his cancellation of removal. Asma was fighting a case that was very weak but she still did whatever she had in her hands to help us. On my dads last court day Asma show her professionalism but also her kind side as we waited for the judge decision. Thanks to Asma we won the case and his not going to be deported but she was also able to get him a green card. Asma has been a blessing to us all and we will never be able to thank her enough.
Have Questions?
Visit our resources page for helpful links and frequently asked questions.
Book A Consultation
Ready to take the next step? Please fill out our form on our Book A Consultation Page.
Our Victories
Din Law Group, PLLC has a proven track record on immigration cases.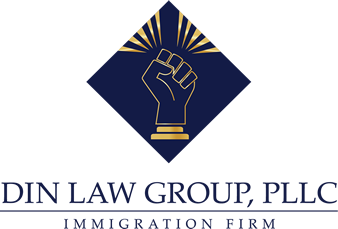 2505 Texas Drive, Suite 112
Irving Texas 75062
Call Us Now: 214-238-4130 | Office Cell: 972-369-2662
Your Immigration Attorney
DISCLAIMER
- Please do not misconstrue any of the information on this website as legal advice. Please contact our office for a consultation to obtain legal advice on a matter.
- Contacting Din Law Group through this website does not result in a attorney-client relationship.
- Asma Din is licensed to practice law by the state of Massachusetts and her practice in Texas is exclusively for Immigration and Nationality law.